IMG KnowledgeBase & Frequently Asked Questions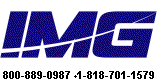 ---
Search FAQ's


Searching for ID: QC2412120688
QC2412120688
What are the differences between the demo version and the retail copy of the Software?
The demo runs for about an hour, and then pops up a "Demo" window, and will not operate unless it is closed & restarted. The licensed version runs without this interruption.
| | | |
| --- | --- | --- |
| Category: Common | Type: Question/Answer | Product: WordComplete |
---
Notes:
Depending on product, release version, OS version, and specific technical issue, some tech items are very specific, and some may span to other products/versions
Downloadable files can also be accessed by anonymous FTP at ftp://downloads.imgpresents.com
Older files are moved into a separate archive location - see notes/details/new location in *.archived.txt text file
---
---














As seen in ...